If you have a website pay attention to these 6 signs that your website might need some love!!!
1. Broken links
A broken link is a link from your website that is not working. If someone hits a link on your website and it takes them no where or to a 404 page it really does need to be fixed. Broken links will negatively impact your SEO (Search Engine Optimization). Broken links increase bounce rates, decrease session duration, and drop conversions, which is reflected in search rankings. It tells users that you aren't trustworthy. Too many broken external links also sends signals to Google that your site is outdated, and it could be harmful to rankings.
2. Non-Optimized keywords
Google and other search engines have over 200 ranking factors that can either take your website to the first page on Search Engine Results Page (SERP) or can throw you somewhere down the line. You should know that not all of them carry equal importance but some of them really do and keywords are one of them that play a major role in ranking your website.
SEO keywords are the words that define your content i.e. what your content is about. They are the words that searchers use to reach your website using search engines. Keywords play a vital role in a website when it comes to Search Engine Optimization. An optimized website with relevant keyword knows what type of keyword their visitors exactly use to visit your website. It's highly recommendable to enlist some keywords relevant to the content to get maximum web traffic and to work towards achieving better SEO. There is a whole industry dedicated to helping website maximize keyword results so this is just scratching the surface.
3. Newsletter signup
What is the importance of a newsletter pop-up for your website? One of the most effective ways to increase the number of collected emails is setting up subscription pop-ups. Once someone signs up for your newsletter you have gained their email information and can grow your business email list. With this email list you can now send out targeted newsletters and emails to highlight your business services, products or specials. Advantages include building your target audience, sending emails to increase brand awareness, using a company like Mailchimp can be a budget-friendly way to improve your marketing strategy and you will have a great wealth of metrics available at the touch of a button.
4. Call to Action (CTA)
Every home page of a website needs a good call to action. The simplest example of a call to action is "Buy now!" button. A call to action entices your viewers and promotes your service or product. The more information you can provide your potential customers with your CTA, the better it will be for all parties involved. You can let your audience know what to expect when they click the button or text link. Tips: use a strong command verb to start your CTA, use words that provoke emotion, give your audience a reason why they should take the desired action and make sure you take advantage of FOMO (fear of missing out).

5. Contact page
While you may find some arguments for not having a contact page and contact form— spam bots being the main culprit (easily alleviated with captcha), there certainly are a lot more reasons to have a contact form. A contact page makes your website more user-friendly. Add it to the top navigation of your header and it will be easy for people to see how to reach out and contact you. Contact Forms allow you to not publish your email address and this can help reduce spam. A good contact form can also keep entries of all form submissions. The record of entries is stored in wp-admin area of your website.
6. Alt text on Images:
This one is huge and is a must on your SEO checklist. It is common and very easy to forget to do this after adding or updating content BUT you get a Big Bang for your buck so this is a reminder to take time to add alt-text to your images. When you add an image to a web page or blog post, be sure to put in the accurate alt text. You can find do this by opening the image inside your media library.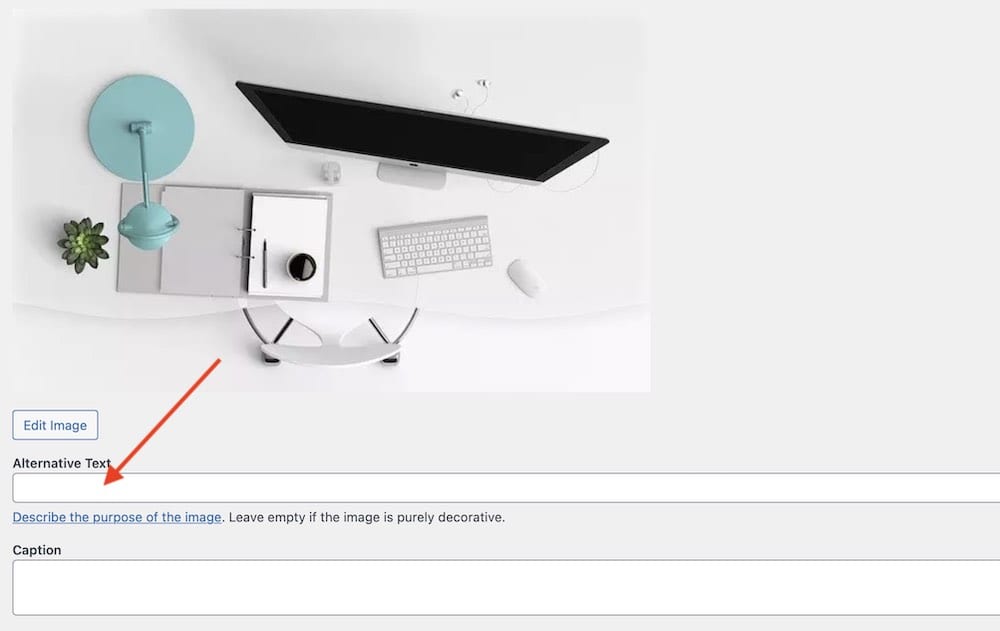 Short for alternate text, alt text is how search engines like Google understand what an image is about. The alt text is added to an image tag in HTML and is useful in cases where the images on a page can't be found. This means that if the user can't see the image for some reason the alt text pops up to explain what the image is.
Misleading alt text is almost as bad as none at all. For example, if the image is a picture of an computer and your alt text says, "office", it's technically accurate but doesn't get the actual image across to the user or search engines. Make sure all your images have alt text.